Facilities
Women's Archives Center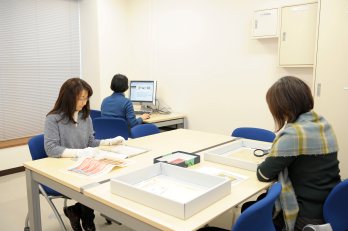 2Women's Archives Center
The Women's Archives Center collects, organizes, stores and provides historical and other materials of women and women's groups throughout Japan pertaining to issues such as women's education and gender equality policy.
Guide
Location

3F, Main Building, NWEC
Opening Hours

9:00 ~ 17:00 (Last entry: 16:30) Please contact us before your planned visit.
Holidays

Sunday, NWEC Holidays & the New Year's Holiday Period

Please consult us about Saturday and Public Holiday visits.
Inquiries

TEL: 0493-62-6195
Targeted Materials
■ Subject areas:
(1)Women's education
(2)Women's issues; women's labor; women's movement; women's policy
(3)Materials used for compiling women's history
(4)Women's groups and institutions
(5)Materials pertaining to NWEC
■ Eras:
Mainly materials compiled between the Meiji era (1868~) and the UN Decade for Women
(1976~1985)
■ Regions :Mainly materials pertaining to cases that had a nationwide effect
■ Formats :Mainly unpublished official or private records (written, audio or video)

Usage Guide
Usage




Open to everyone. Please contact the number provided or send an inquiry form to advise us of the day on which you wish to visit. A catalog of our collection is accessible to the public on our Women's Digital Archives System. Images for some materials are also accessible and can be viewed without visiting the Women's Archives Center. The majority of materials are documents distributed on a limited scale, and private diaries and notes, rather than mass-published matter. We ask that you respect and protect both the authors' privacy and copyrights when using their materials. For details, please see "Search Guide for the Women's Digital Archives System".
Browsing




Please ensure you read through Usage Guide to the Women's Archives Center Reading Room before visiting.
The Women's Archives Center employs a closed stacks system.
Please search for the materials you wish to use on the Women's Digital Archives System, fill in an application form, and submit it at the counter.
Submitting a completed application form before you visit, either by email or fax, should ensure your visit goes smoothly.
Women's Archives Center Exhibition Room
The Women's Archives Center Exhibition Room on the first floor of the Main Building exhibits materials from its collection throughout the year.
For details, please see "Women's Archives Center Exhibitions"