Cooperation with JICA
FY2021 Knowledge Co-creation Program "Promotion of Networking among ASEAN Countries on Anti-Trafficking in Persons"
Cooperation with JICA
Event Report

FY2021 Knowledge Co-creation Program "Promotion of Networking among ASEAN Countries on Anti-Trafficking in Persons"

Date:November 4, 5 and 17, December 17, 2021 / January 20 and 27, 2022
---
The National Women's Education Center (NWEC) offered a training seminar entitled "Promotion of Networking among ASEAN Countries on Anti-Trafficking in Persons" during the period from November 4, 2021 to January 27, 2022, as a project commissioned by the Japan International Cooperation Agency (JICA).

This year again, from a standpoint of preventing the spread of the coronavirus, the seminar was held online. Thirteen officers and individuals working in the area of prevention, protection, and social rehabilitation of human trafficking victims in six ASEAN countries (Cambodia, Laos, Malaysia, the Philippines, Thailand, and Vietnam) participated in the seminar.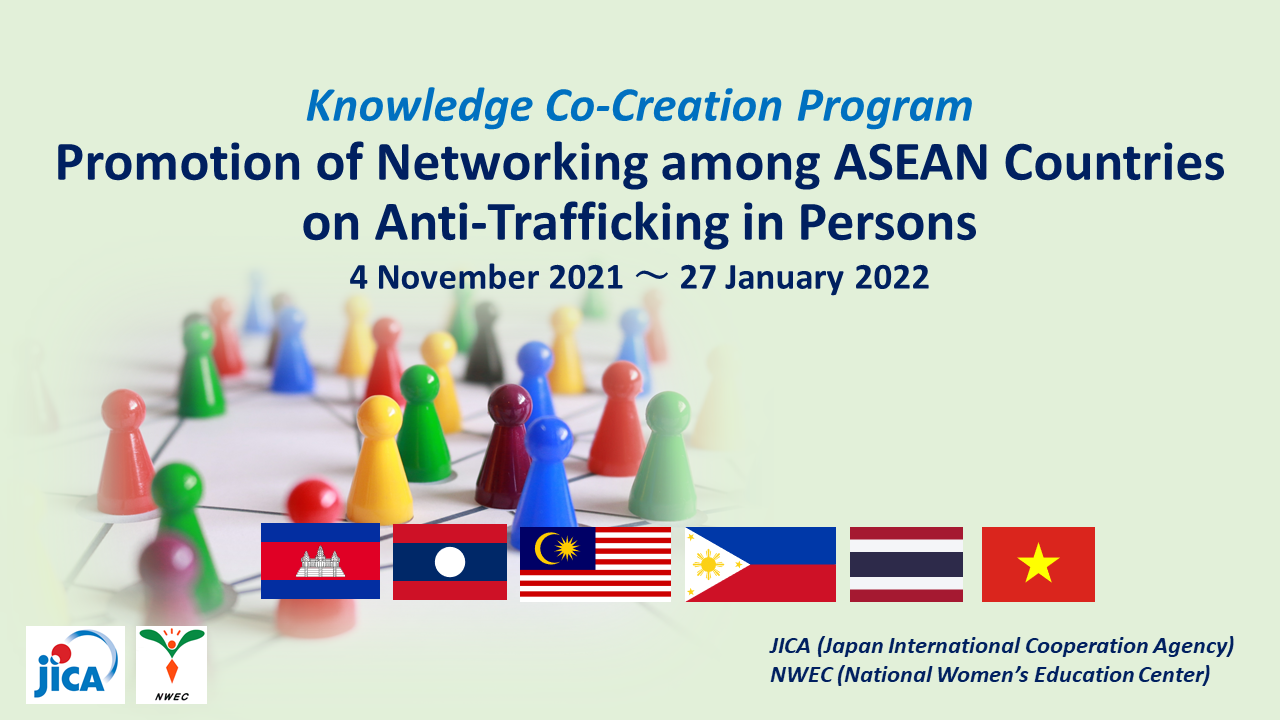 The purpose of this seminar is to mutually learn from one another about efforts being made for anti-trafficking measures, and to get a better picture of the roles and frameworks of cooperation among relevant organizations engaging in prevention, protection, and various support for the victims. It also aims to promote discussion among the seminar participants about policies that contribute to the enhancement of the functions of organizations working on anti-trafficking measures, as well as promote cooperation and cross-border networking.

The seminar consisted of a Connection Test (November 4 and 5), a Live Orientation (November 17), a Country Report Presentation (December 7), an In-Depth Report Session (January 20), and a Final Debriefing and Evaluation Session (January 27). Although the participants had to attend the online seminar in addition to carrying out their everyday tasks, they engaged in lively discussions about the protection of victims, vocational training systems, the impact of the COVID-19 pandemic on women, legal issues, and so on.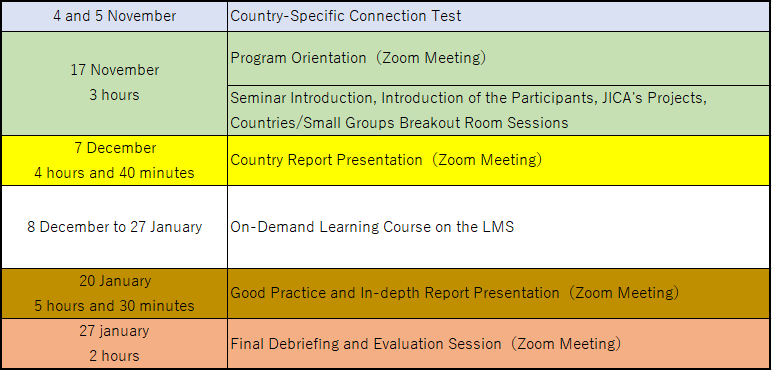 November 17 (Wed): Orientation
The online orientation over Zoom, hosted from an NWEC conference room, connected 13 seminar participants in six countries.

Because of the time differences, the event started at 11:00 a.m. in Japan, but 9:00 a.m. in Cambodia, Thailand, Vietnam, and Laos, and 10:00 a.m. in the Philippines and Malaysia. The orientation began with self-introductions and an introduction of JICA programs, followed by briefings on the schedule of the three-month-long seminar, the use of the learning management system (LMS), and the online assignments. Then, the participants were divided into countries/small groups, and conducted separate sessions using the breakout feature on Zoom.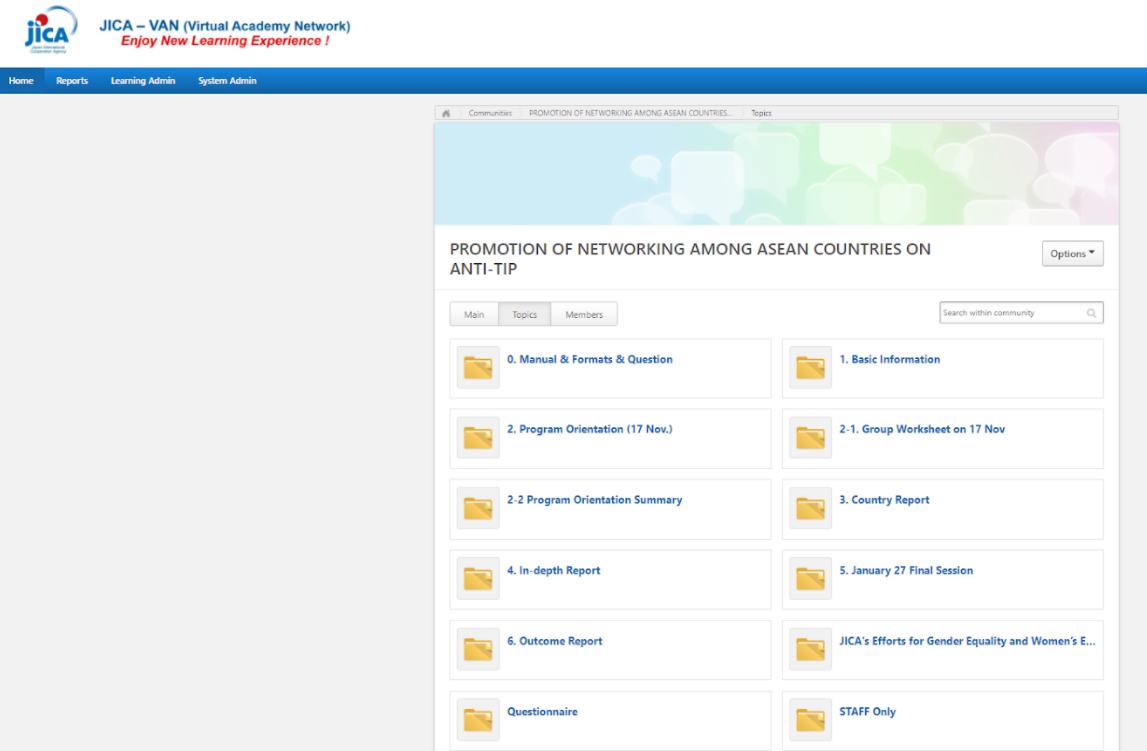 Learning Management System (LMS) screen
December 7 (Tue): Country Report Presentation
The Country Report Presentation consisted of two parts: "Part 1: Basic information including policies and frameworks of each country regarding trafficking in persons" and "Part 2: Impact of COVID-19 on the issues of trafficking in persons in each country." The participants presented reports using the materials they prepared in advance. Many questions were asked regarding organizations that identify victims and procedures needed for identification, support for young victims and children, language barriers between different ethnic groups and support for victims of foreign nationals, and so on.
December 8 (Wed) to January 27 (Thu): On-Demand Learning Course
A video entitled "JICA's Effort for Gender Equality and Women's Empowerment" was uploaded on LMS. The seminar participants learned, at their convenience, about efforts JICA is making towards improving gender equality and women's empowerment, as well as anti-trafficking projects they are implementing in three Mekong nations (Thailand, Myanmar, and Vietnam).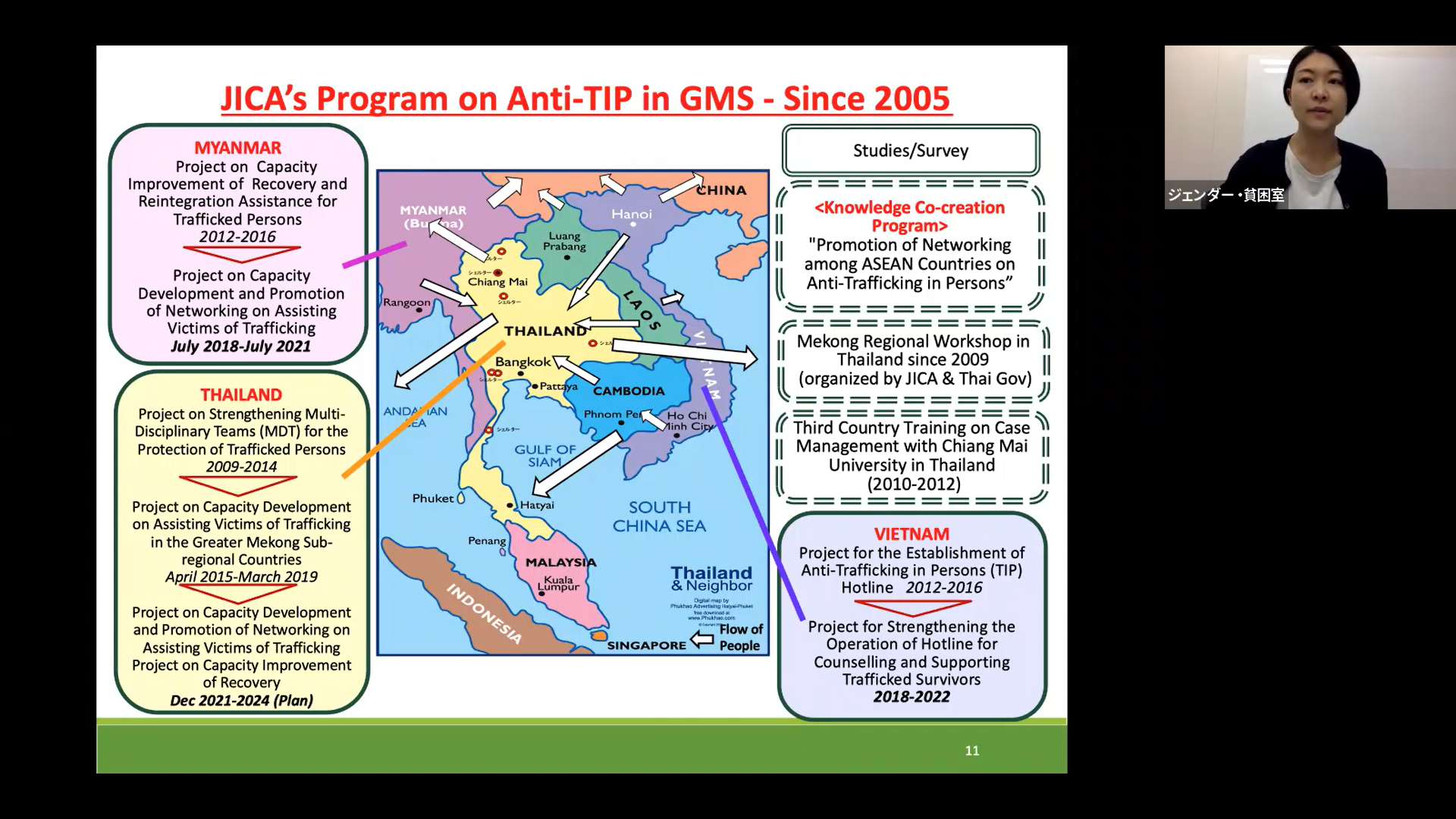 On-demand video provided by JICA Office for Gender Equality and Poverty Reduction
January 20 (Thu): Good Practice and In-Depth Report Presentations
Each country chose a theme to deliver presentation in the Good Practice and In-Depth Report Presentations. Guest speakers were invited from the Cambodian Women's Crisis Center (CWCC) and the Division of Anti-Trafficking in Persons (DATIP) of the Ministry of Social Development and Human Security of Thailand, both of which are counterparts of JICA. Participants from Malaysia and the Philippines also invited guest speakers from Global Shepherds and the Batis Center for Women. The participants shared information about hardships and challenges caused by trafficking in persons, which are obscured by the COVID-19 pandemic, especially problems migrant women are facing. The participants also engaged in lively discussions on legal issues, how to offer effective vocational training and consultation, and good examples of cooperation between governments and citizen sectors.

In addition to the guest speakers and the staff from JICA regional offices, staff from ASEAN welfare-related training center, which is a counterpart of JICA, sat in on the Good Practice and In-Depth Report Presentations. The participants used the chat feature of Zoom to engage in a lively exchange of views.
January 27 (Thu): Final Debriefing and Evaluation Session
In the Final Debriefing and Evaluation Session, the outcome report (KCCP Final Report), which constitutes the deliverables of this seminar, was confirmed.
This report was comprised of a list of participants, the agenda, country reports, and excerpts from In-Depth reports. For the purpose of gauging the level of learning and the ability to apply knowledge gained from the seminar, each participant made a short presentation on how they intend to apply what they learned from the seminar to their future work. Requests were made for "more time for presentations and discussions" which shall be reflected in program designs for future years.

Trafficking in persons is a serious crime committed across borders, and many participants mentioned a growing demand for a further strengthening of networking. Results obtained from this seminar shall be utilized in future anti-trafficking projects JICA plans to conduct in the ASEAN region.

Commemorative photograph (seminar participants, JICA and NWEC staff)
Lastly, we sincerely thank all the people who offered a great deal of cooperation in carrying out this online seminar.
FY2021 Knowledge Co-creation Program "Promotion of Networking among ASEAN Countries on Anti-Trafficking in Persons"