International Conference/International Exchange
International Conference/International Exchange
Visitor

KIGEPE Delegation Visit

Date:December 18 to 20, 2011
---
From December 18 to 20, 2011, Director of Korean Institute for Gender Equality Promotion and Education (KIGEPE), Ms. Sangwha LEE, and Division Head of KIGEPE, Ms. Jooyoung LEE visited Japan. KIGEPE and NWEC have entered into Exchange and Cooperation Agreement in 2006.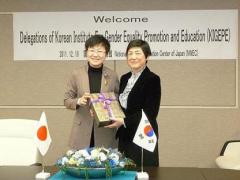 1. Ms. Sangwa Lee, Director of KIGEPE and Ms. Fusako Utsumi, President of   NWEC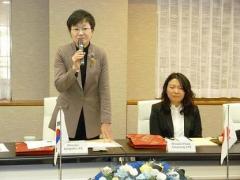 2. Ms. Sangwa is making a presentation about KIGEPE South Center
They visited NWEC on the 19th. After welcome speech by President Utsumi, Ms. Nakano, Director of Office of Research and International Affairs, made a presentation about the history and programs of NWEC. Then, Director LEE briefed on KIGEPE South Center, which opened in May 2011. After exchange of opinions with NWEC personnel, they also visited Information Center for Women's Education and Women's Archives Center.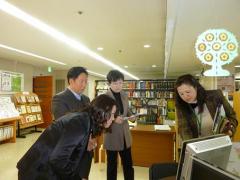 3. Visiting the Information Center for Women's Education of NWEC
They also visited "Michi-no-Eki (roadside station) Menuma," run by women in Menuma, Kumagaya-city, where Ms. Ginko Ogino, the first woman medical doctor in Japan, was born. Ms. Yuko Ohtoge, representative of the Michi-no-Eki, told them about management of the restaurant including product development, such as ice cream using leek, signature agricultural product of the region. Next day, they exchanged opinions at Higashi-Matsuyama Farm Stand, JA Saitama Chuou, about family management agreement and empowerment of rural women with Ms. Toshiko Oigawa at Saitama Association of Exchange Supporters for Supporting Women Farmers and Director Chie Suzuki, General Manager Mutsuo Komine, and Division Manager Toshie Ohara at JA Saitama Chuou. Then, they made a tour of a miso factory. KIGEPE delegation made a courtesy visit to Ms. Junko Arai. Ms. Arai runs Helathy Cafe Nora, a community cafe for mothers who have a less than one-year child. They enjoyed a healthy lunch prepared by Chef Kayoko Miura.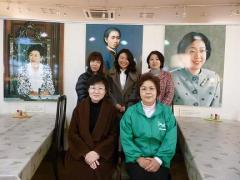 4. With Ms. Yuko Ohtoge, representative of Michi-no-Eki Menuma, taking a commemorative photo in front of panels of Japanese pioneer women.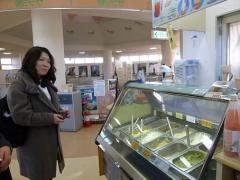 5. Leek-flavored ice cream at Michi-no-Eki Menuma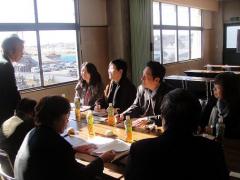 6. Exchanging opinions with staff members of JA Saitama Chuo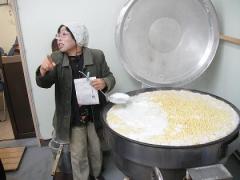 7. A tour of a miso factory at JA Saitama Chuo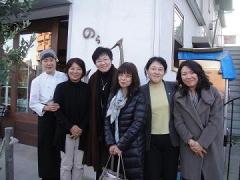 8. Taking a photo with staff members of "Healthy Cafe Nora"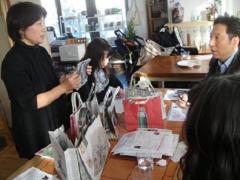 9. At "Healthy Cafe Nora"