International Cooperation
FY2015 International Symposium: Gender Equality and Women's Empowerment
NWEC Global Seminar
Event Report

FY2015 International Symposium: Gender Equality and Women's Empowerment

Date:February 12, 2016

Place:Shufukaikan Plaza f in Chiyoda-ku, Tokyo /
---
The 2015 NWEC International Symposium was held at Shufukaikan Plaza f in Chiyoda-ku, Tokyo on February 12, 2016 around the theme: Gender Equality and Women's Economic Empowerment. Approximately 70 people from Japan and abroad attended this year's symposium and lively discussion ensued.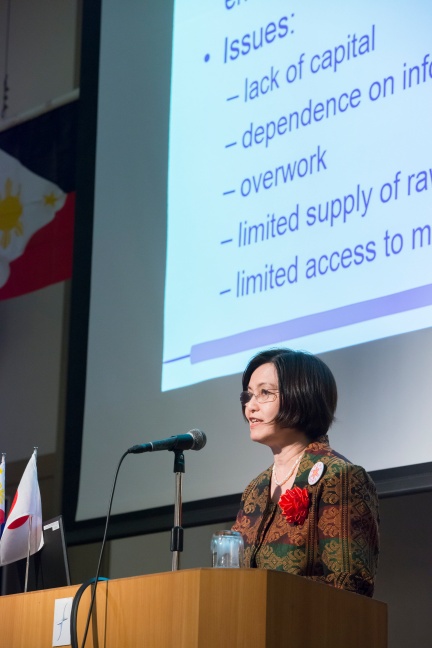 1. Keynote address (Ms. Emmeline L. Verzosa)
The keynote address in Part I was presented by Ms. Emmeline L. Verzosa, Executive Director, Philippine Commission on Women, Office of the President, who gave a detailed report entitled "Synergizing Gender-responsive Actions for Women's Economic Empowerment in the Philippines.

The report, which described concrete examples of how the Philippine Commission on Women, with the support of the government of Canada, implemented the GREAT Women Project throughout the Philippines, offered a good opportunity for everyone to think about how Japan, where women's participation in economic fields remains inadequate, should approach this issue.
GREAT stands for Gender Responsive Economic Actions for the Transformation of Women, and the project sought to synergize the activities of economic, government and private organizations. It is notable for its role in creating gender-responsive work and employment environments conducive to women's economic empowerment through improved access to technical and business training, innovation in technology, resources, facilities, packaging, and markets.

To sustain and expand the gains of this project, Ms. Verzosa offered the following suggestions:
1) Provide capacity building and technical assistance on Gender and Development, and Women's Economic Empowerment to various agencies at all levels;
2) Establish associations or cooperatives for women micro-entrepreneurs;
3) Strengthen partnerships with the private sector to improve product quality and expand marketing channels;
4) Encourage government, non-government and other organizations to offer programs and support services for women migrant workers, and respond to their needs;
5) Establish and improve monitoring mechanisms to check whether women aspiring toward economic empowerment have assured access to capital and finance, markets, capacity building and state-of-the-art technology.

Ms. Verzosa closed her strong message to the audience by concluding that the key to realizing women's economic empowerment lay in synergized efforts among relevant organizations, and establishing good gender-sensitive governance.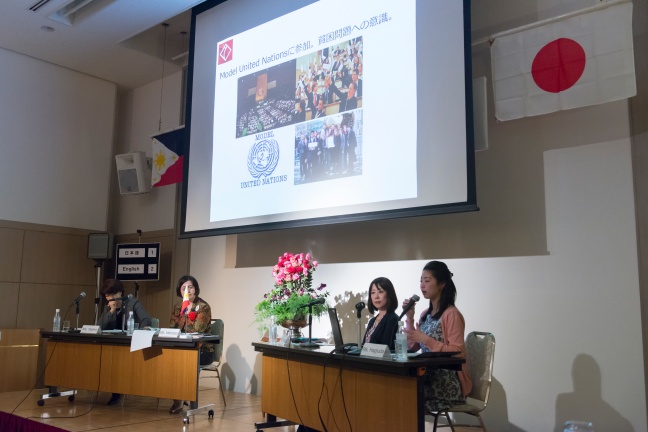 2. Panel discussion
The panel discussion on women's entrepreneurship held in Part II comprised animated reports and discussion. In a report entitled: Developing Women's Capacity for Growth and Change, Fumiyo Harada, a financial specialist active in Asia, described initiatives being taken by the Development Bank of Japan to support development of women entrepreneurs. Megumi Hagiuda, a young entrepreneur, then discussed the challenges being made by her shop "Afrika Rose" in a report entitled: Create Jobs by Kenyan Roses.
Both reports offered straightforward yet detailed accounts of the development of women's ventures - how they were supported and managed, the services and products involved, and the challenges they encountered - and clearly conveyed the difficulties and joys of entrepreneurship.

Explaining that the Development Bank of Japan was started as a national bank in 1951 to promote industrial recovery after World War II, Ms. Harada elaborated on both why the bank had begun supporting women entrepreneurs, and the selection process and criteria used to screen applications for venture support projects. She also offered convincing explanations for the problems with many venture applications, saying some applications were difficult to adopt because either production wasn't feasible despite having an interesting concept or the applicant was too emotionally involved.

Ms. Hagiuda explained that rather than simply providing "support" for a developing country, the import and sale of Kenyan roses had resulted a win-win relationship for both Kenya and Japanese consumers, and impressed the audience with her vivid account of what this venture had involved, including both the mishaps and the surprises. The symposium venue was decorated with exquisite roses sent directly from Kenya.

Facilitating the discussion, Yoko Yajima, an expert in diversity management and a principal consultant at Mitsubishi UFJ Research & Consulting, did an excellent job of moderating between the support provider and recipient sides, and deepening discussion into what is needed to promote women's empowerment. The keynote speaker, Ms. Verzosa, also participated in the discussion and heated debate on matters concerning women's economic empowerment ensued.

These lectures and discussion ensured the symposium offered a meaningful forum for clarifying what is needed to further advance women's empowerment in both the Philippines and Japan, and the way forward in Japan, where the Law to Promote the Role of Women in the Workplace and the Fourth Basic Plan for Gender Equality have been adopted.

In the question and answer session, questions about issues such as when women in the Philippines had begun to enter the workforce and how the government was responding to women migrant workers received a thorough explanation of historic circumstances surrounding women's advancement from the beginning of the 20th century.

In Part II, in addition to numerous questions about rose cultivation in Africa fielded by the audience, a lively discussion developed around the forward looking outlook that although it had been difficult for Japanese women to start new businesses in the past, they had begun to accumulate knowhow and an environment conducive to starting and sustaining new businesses was becoming established.
<Past International Symposium>
FY2015 International Symposium: Gender Equality and Women's Empowerment