International Conference/International Exchange
Participation in the 63rd Session of the Commission on the Status of Women
International Conference/International Exchange
CSW

Participation in the 63rd Session of the Commission on the Status of Women

Date:March 11 to 22, 2019
---
The 63rd session of the Commission on the Status of Women (CSW63) was held at the United Nations Headquarters in New York from Monday, March 11 to Friday, March 22, 2019. Addressing "Social protection systems, access to public services and sustainable infrastructure for gender equality and the empowerment of women and girls" as its priority theme, CSW63 comprised General Discussion; ministerial round tables; and interactive expert panels. The Review Session, which sought to evaluate progress made on a previous CSW theme, focused on the theme of "Women's empowerment and the link to sustainable development."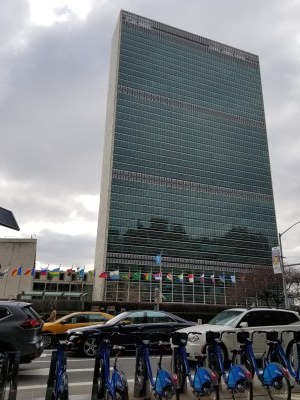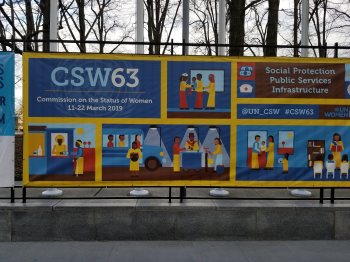 On Thursday, March 14, Japan's representative, Ms. Yumiko Tanaka, presented Japan's statement, in which she shared Japan's commitment to promoting women's empowerment toward achievement of the SDGs and contributing to realization of a society in which not a single person is left behind. In terms of Japan's efforts, in addition to mentioning Japan's announcement of a monetary value for unpaid labor, the majority of which is shouldered by women, and a campaign to promote men's participation in housework and child-raising, Ms. Tanaka introduced an initiative to establish a safe and comfortable public transport system in India and Pakistan that Japan supported.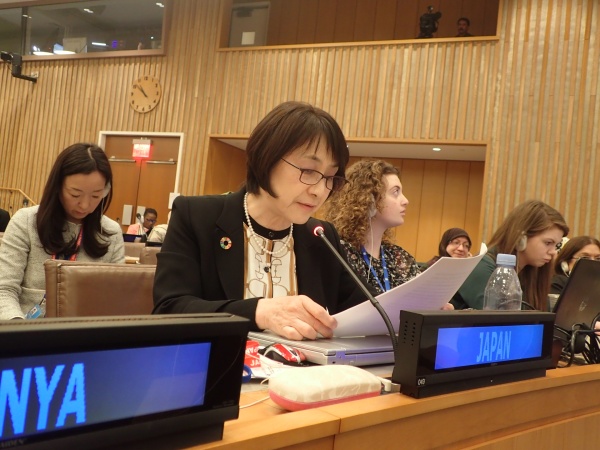 A number of events relating to the priority and the review themes are held in and around the United Nations Headquarters building during CSW sessions. The Japanese government held two side events in collaboration with W20, an engagement group* affiliated to the G20, and three Japanese NGOs. Both of these were enthusiastically received, indicating the high level of interest in the status of gender equality in Japan and issues therein.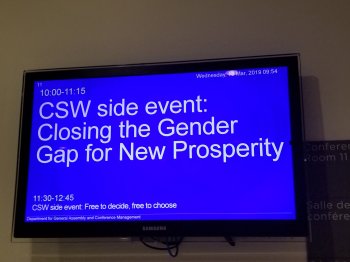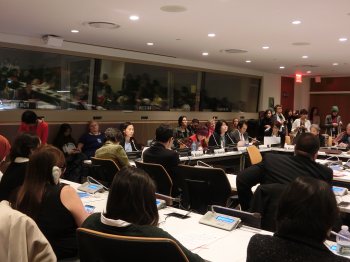 [* Note] At the G20, engagement groups, which are independent from governments and comprised of various stakeholders of international society, host meetings relevant to the G20 discussions. Comprising representatives of relevant organizations, they represent the Business community (B20), Civil society (C20), Labor unions (L20), Scientists (S20), Think tanks (T20), Urban cities (U20), Women (W20) and Youth (Y20) from the G20 countries and make contributions such as drafting recommendations on their areas of interest.
The United Nations Economic and Social Council requires CSW to summarize the results of discussions on each year's theme in the form of "Agreed Conclusions." Every year, country representatives engage in discussions until late at night, occasionally until early morning, and pass a resolution on the final day after reaching consensus on each and every word of the contents.
Discussions on the Agreed Conclusions get into full swing during the second week. To reach consensus in fields such as sexual and reproductive health and rights, migration, and the family, delegates met to hold group discussions. Consensus on all paragraphs was finally reached on the last day after 7 p.m.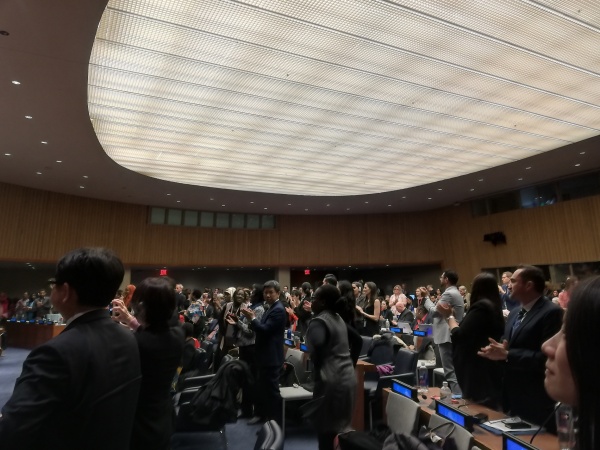 Delegates applauding after reaching consensus on the Agreed Conclusions
CSW63 came to an end when the Agreed Conclusions were duly adopted at the closing ceremony held at the same venue. At this ceremony, Ms. Phumzile Mlambo-Ngcuka, Executive Director of UN Women, stated that the CSW recommendations pave the way for governments to engage and invest differently; involving women in policy dialogue, and targeting initiatives that go to the heart of the largest barriers to the empowerment and voice of women and girls. The Agreed Conclusions comprised 24 A4-size pages covering 52 items.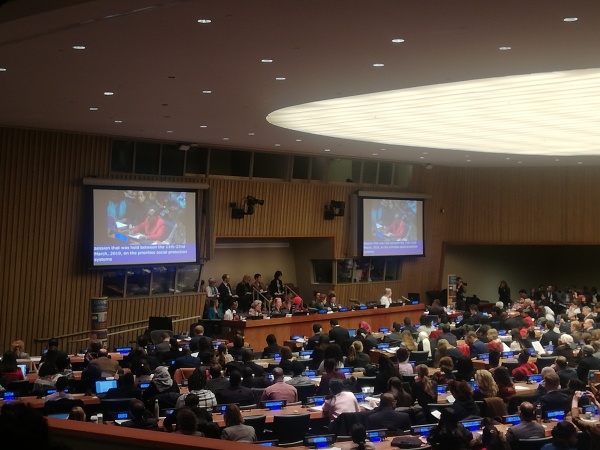 Closing Ceremony
Participation in the 63rd Session of the Commission on the Status of Women