International Cooperation
FY2006 Empowerment Seminar for Women Leaders in the Asia Pacific Region
International Seminar
Event Report

FY2006 Empowerment Seminar for Women Leaders in the Asia Pacific Region

Date:February 1 to 11, 2006
---
An international seminar titled as above was held for women's empowerment and
leadership development for the period of 10 days from 1st to 11th of February.
In total of 19 participants were selected from 8 countries of Asia who are working as government officials, educators, and staff members of NGOs. The countries of participants were Bangladesh, Cambodia, India, Indonesia Korea, Philippine, Thailand, and Japan. One of the particular features of the seminar was to establish sister-to-sister collaboration to promote gender related activities across countries and also face-to-face collaboration of the participants and NWEC.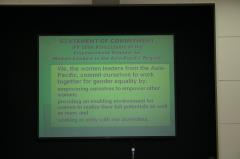 A joint hand painting symbolizing gender equality. The drawing was cut in pieces after drying for "creating a new environment such as gender equality, one need to destroy the existing structure."
Women's leaderships are defined in various ways in the field of business and others. However, the participants of this seminar discussed to explore their innovative ways of developing women's leadership so that it helps to advance gender equality that are suitable and needed for their specific environment.. As for this seminar, NWEC defined leaders as: 1) Leaders are ones who support women's empowerment with the perspective of gender equality and; 2) ones who hold social responsibility for promoting gender equality at all levels of society. With the these definitions of leaders, this seminar's objectives were set as:1) Forming a network for NWEC and the seminar participants as a basis for; 2) Empowering leaders for achieving gender equality at all levels of society.

Leadership development cases and posters
As a way to begin to explore issues involved in women's leadership, a case study analysis using examples experienced in participants working environment and a poster displaying images and a message for women's leadership in a sheet of paper were given as pre-requisite projects. The case analyses and posters submitted by the participants described current leadership development practices in their countries, images of women leaders needed by the community and also those images of leaders sought by themselves as model leaders. The posters showed images produced by their projects or organizations, graphs and charts displaying women's situation in their countries, and also creative artwork they drawn as an alternative women leader's image for gender equality. All posters illustrated colorful and thematic ideas and images of women leaders that are cultural and specific to their community and/or campaign.activities.

Seminar and action plans
The seminar was conducted in three stages: 1) Gender equality courses; 2) Exercises on leadership skills; and 3) study visits to women centers, NGOs, and enterprise that are practicing gender equality schemes. The courses on gender equality were primarily about women's movement in Japan, women center's roles and functions in Japan, gender statistics, women's information system and etc. Leadership skills exercises included styles of leadership, effective team work factors, coaching and leadership, and group exercise to pain a large drawing. Study visits were made at the Ministry of Agriculture, Forestry and Fishery, Gender Equality Bureau, the Cabinet office, Shiseido, the Yokohama Women's Association for Communication and Networking (YWACN) and WE21. The participants also had a discussion time with women's groups in Kanagawa prefecture. With the full-package program, the ten day seminar seemed to have flown very quickly. It was a challenge for the participants physically and emotionally to manage all that was included in the program.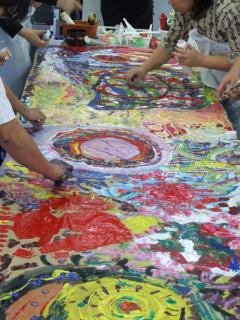 A joint hand painting symbolizing gender equality. The drawing was cut in pieces after drying for "creating a new environment such as gender equality, one need to destroy the existing structure."
As the final activity of the seminar, the 19 participants divided themselves into 3 groups and each group drafted an action on a selected thematic issue: Gender Mainstreaming in Education, Gender Mainstreaming for Policy Change, and Eliminate Trafficking of Women into Prostitution. The final action plans were presented at the public symposium along with a series of discussion sessions held with wide-ranging participants at the Center for the Advancement of Working Women (CAWW).

As one of the particular features of the seminar was to establish face-to-face partnership among the participants, the exercise program had focused on team building. Starting with the ice breaking session, various group activities focused on building sense of bonding and sisterhood. The participants seemed to have felt most benefited from the bonding and network created by participating in this seminar. Their willingness and commitment to follow up on the action plans seemed strong. Throughout the seminar, participants seemed to enjoy the inclusive and warm sense of bonding created among the participants as sisters who share the same goal towards the gender equality in society.

Japanese winter
The seminar was held in February, the coldest time of the year. The cold weather was challenging to cope with for some of the participants who were coming from tropic climtates. In order to cope with the cold weather, we have introduced Japanese "Kairo", portable body warmer. The participants like the adhesive and disposable type that sticks to under shirts. The participants came to pick up one of such kind in each morning to keep their body warm for the day. The NWEC volunteers collected their heavy coats and sweaters as donations for the participants who did not bring enough warm clothes. The NWEC volunteers not only helped with the clothes, but they also opened a tea ceremony and kimono trial session for the participants to wear the kimono and sit at the traditional Japanese tea ceremony. The participants enjoyed the tea and kimono trial and also brief conversations with the NWEC volunteers. We would like to express our sincere gratitude for the NWEC volunteers who took their time out to organize those events and extended their kindness and hospitality to the seminar participants.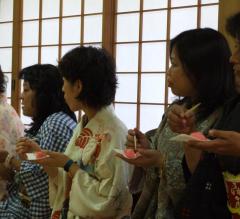 Tea ceremony and kimono trial organized by NWEC volunteers
* FY2006 Empowerment Seminar for Women Leaders in the Asia Pacific Region-Capacity and Network Development for Next Women Leaders-
* Dates: 1-11 February 2007
* Participants: 19 participants from Bangladesh, Cambodia, India, Indonesia, Japan, Korea, Philippines, and Thailand.
* Seminar background: For achieving gender equality in our society, the National Women's Education Center (NWEC) will organize a participatory seminar on leadership capacity development and empowerment for female government officials, educators, and staff members of NGOs. This seminar will continue annually for five years.
FY2006 Empowerment Seminar for Women Leaders in the Asia Pacific Region