International Cooperation
FY2013 NWEC International Symposium:Gender Equality for Men
NWEC Global Seminar
Event Report

FY2013 NWEC International Symposium:Gender Equality for Men

Date:October 5, 2013

Place:the JICA Research Institute (Shinjuku-ku, Tokyo) /
---
On October 5, 2013, the National Women's Education Center (NWEC) hosted the FY2013 NWEC International Symposium at the JICA Research Institute (Shinjuku-ku, Tokyo) under the theme of "Gender Equality for Men."

After welcome remarks from the guests of honor, Mr. Tadayuki Fujino, Deputy Director-General of the Lifelong Learning Policy Bureau, Ministry of Education, Culture, Sports, Science and Technology and Ms. Tomoko Samura, Director-General, Cabinet Office Gender Equality Bureau, two keynote addresses were delivered by two speakers.

The first speaker, Ms. Cassandra Kelly (Co-Founder and Joint CEO, Pottinger), spoke on the initiative of the Australian Human Rights Commission aimed at gender mainstreaming in companies, governmental agencies and the military through "Male Champions of Change," with the subject title being "Australia: Using Power and Influence to Make The Change" .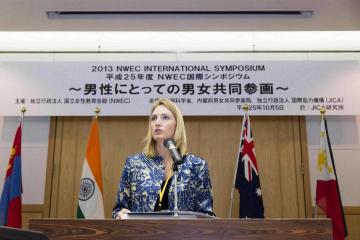 1. Keynote address (Ms. Cassandra Kelly)
The second speaker, Prof. Kimio Ito (Professor, Graduate School of Letters, Kyoto University), gave a talk entitled "Men's Issues in Japan From Gender Equality Perspectives," in which he first pointed out that the gender-based division of roles - "Women stay home, men work" - had been shaped in the process of modernization and he proceeded to analyze, on the basis of empirical data, gender issues that men are faced with, including karoshi (death by overwork) triggered by long working hours and the growing number of suicides among middle-aged and senior men.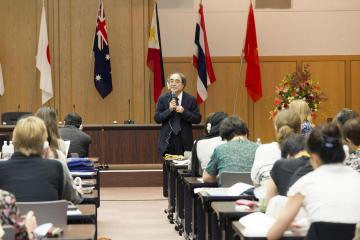 2. Keynote address (Prof. Kimio Ito)
The panel discussion, given the subject of "Best Practices for Promoting Male Engagement in Gender Projects," took place with a group of experts invited to serve as panelists, who are each playing an active role at an overseas or international organization or in their local region, and expert recommendations were presented, accompanied by accounts of case examples in and outside of Japan.
Dr. Ravi K. Verma (Regional Director for the International Center for Research on Women, Asia Regional Office) gave an account of the initiative in the form of courses and coaching with gender considerations in the field of school and sports instructions.
Ms. Junko Sazaki (Director, UNFPA Tokyo Office) emphasized that in order to ensure access to reproductive health, what is important is to regard men to be partners toward that end and promote their understanding and engagement. Her talk included a report on "Schools for Husbands," an initiative carried out in Niger, as a good example of a development project intended to have men engaged.
To conclude, Ms. Mitsue Matsushita (Executive Director, Shizuoka City Women's Community Center "AICEL 21"), representing Japan, discussed what should be noted when a women's center develops and gives any course targeting a male audience and presented the initiative of a networking group of male caregivers, whose profile in society still remains low.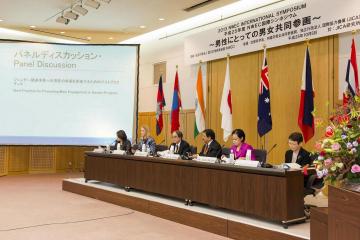 3. Panel discussion
During the question and answer session, a number of questions were asked, including those about pros and cons of introducing a quota system, together with views that agree with keynote speakers and panelists whose presentations had implied a need to transform the existing male-led social structure.

In the lobby of the venue, there was an exhibition of posters illustrating gender equality policies in Cambodia, Mongolia, the Philippines, Thailand and Vietnam that were created by participants in the international seminar organized by NWEC in advance of the Symposium, where scenes of networking were witnessed; for instance, Symposium participants asked questions to seminar participants.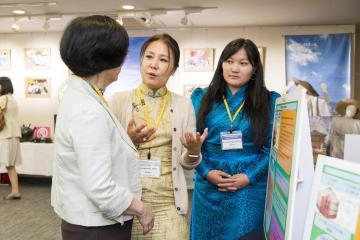 4. Poster session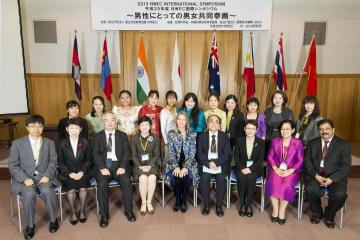 5. Keynote speakers, panelists, guests of honor
<Past International Symposiums>
FY2013 NWEC International Symposium:Gender Equality for Men