International Cooperation
FY2009 International Forum for Women's Empowerment
NWEC Global Seminar
Event Report

FY2009 International Forum for Women's Empowerment

Date:October 31, 2009
---
The National Women's Education Center, with the support of the Japan International Cooperation Agency (JICA), held the FY2009 International Forum for Women's Empowerment around the theme "Eradication of Violence Against Women" on Sat., October 31.

The International Forum comprised two parts. The first part comprised a keynote speech on measures being taken to eradicate violence against women (VAW) in the Philippines by Dr. Sylvia Estrada-Claudio, Director of the University of the Philippines Center for Women's Studies, which has a research cooperation agreement with NWEC. The second part involved dividing the eleven participants on the FY2009 Empowerment Seminar for Women Leaders in the Asia Pacific Region held by NWEC immediately prior to the International Forum into two groups, and having them report on the outcome of their 12-day training: "Presentation of Training Reports and Recommendations for Measures to Eradicate Violence Against Women." After viewing a slideshow produced by the participants as a reflection on the content of their training, the first group outlined international frameworks pertaining to VAW in the Asia Pacific Region; the status of national legislation; and government and civic organizations' activities to eradicate VAW in their respective countries. The second group proposed polices based on analysis of factors impeding the prevention and eradication of VAW.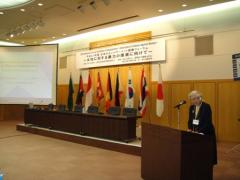 President Kanda greeting participants at the opening ceremony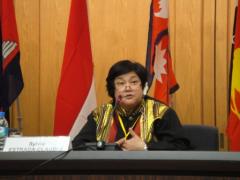 Dr.Claudio-Estrada presenting her keynote speech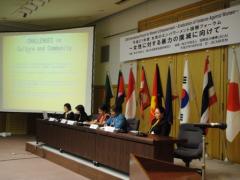 Participants on the Empowerment Seminar split into two groups to present their results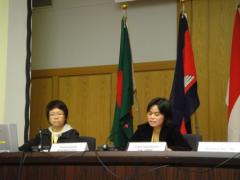 In the latter half of the second part, a panel discussion was held among the keynote speaker Dr. Estrada-Claudio, Ms. Ako Muto, Gender Equality Promotion Division, Gender Equality and Peace Building Group, Public Policy Department, JICA, Ms. Vichuta Ly, a participant on the FY2008 Empowerment Seminar (Director of Legal Support for Children and Women, a Cambodian NGO), and two representatives from each group.
A lively question and answer session ensued with the audience asking a slew of questions about the establishment of one-stop centers and other cutting-edge measures in each country. The International Forum closed by confirming the importance of information sharing and network building among practitioners and specialists engaged in eradication of VAW in the Asia Pacific region.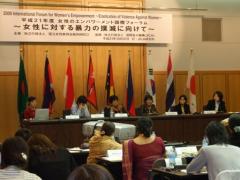 Panel Discussion
Postscript 1: A Report on and Country Reports (English) from the FY2009 Empowerment Seminar for Women Leaders in the Asia Pacific Region can be available on NWEC's website.
Postscript 2: The proceedings of this Forum will be published by NWEC in the form of a report in March 2010.
FY2009 International Forum for Women's Empowerment