Cooperation with JICA
Seminar on the Promotion of Education for Girls and Women II
Cooperation with JICA
Event Report

Seminar on the Promotion of Education for Girls and Women II

Date:January 13 to February 5, 2009
---
The Seminar on the Promotion of Education for Girls and Women II was held at NWEC from Tuesday, January 13 through Thursday, February 5, 2009. Commissioned by the Japan International Cooperation Agency (JICA), this seminar targets supervisors of women's education in developing countries in Asia, Africa and the Middle East. It has been held annually since FY2001.
This year's seminar was attended by seven trainees: two from Laos, and one from each of Gambia, Zimbabwe, Nepal, Niger and Malawi. The trainees learned about a broad array of topics through workshops on gender-equal policy in Japan and how to improve literacy among women, and a study tour to Hiroshima Prefecture. From Tuesday, January 20 through Friday 23, the trainees stayed at NWEC where they attended a lecture entitled "Our Experiences of Promoting Women's Education in Japan" and a workshop on gender statistics. From workshopTouring both the Information Center for Women's Education and the Women's Archives Center, they gained a better understanding of NWEC's role as a national center for women's education.
On the final day, through the process of formulating action plans, trainees considered practical measures for improving access to education in developing countries and mitigating gender disparities in school attendance rates.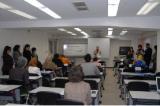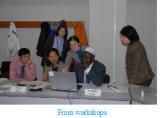 Seminar on the Promotion of Education for Girls and Women II