International Conference/International Exchange
The 65th session of the Commission on the Status of Women
International Conference/International Exchange
CSW

The 65th session of the Commission on the Status of Women

Date:March 15 to 26, 2021
---
The sixty-fifth session of the Commission on the Status of Women (CSW65) took place from March 15 to 26, 2021. In light of the evolving COVID-19 situation,

CSW65 was held online as was in the previous year. "Women's full and effective participation and decision-making in public life, as well as the elimination of violence, for achieving gender equality and the empowerment of all women and girls" as the priority theme, and "Women's empowerment and the link to sustainable development (agreed conclusions of the sixtieth session) as the review theme, CSW65 comprised of ministerial round tables and interactive dialogues.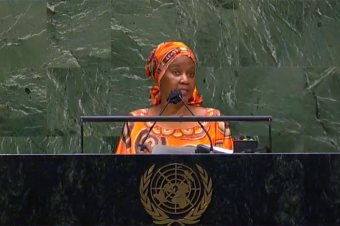 Phumzile Mlambo-Ngcuka, Executive Director of UN Women,
making a speech at the closing session of CSW65.
"The Agreed Conclusions", the outcome document of the CSW, pointed out that the COVID-19 pandemic is deepening pre-existing inequalities that perpetuate multiple and intersecting forms of discrimination, as well as racism and xenophobia. Moreover, the percentage of women in the governmental COVID-19 task force in 137 countries stays at only 24%.

In view of these present circumstances, the Agreed Conclusions emphasize that, in order to promote women's participation in decision-making processes, it is necessary to formulate and implement laws and policies to eliminate discriminations that prevent women from participating in the public sector, and that it is needed to set specific targets and timelines to achieve gender balance in government organizations through quotas and training programs.

Various civil society organizations engaged in active dissemination of information during CSW sessions. Three NGOs from Japan (Japan Women's Watch, the National Women's Committee of the United Nations NGOs, and International Women's Year Liaison Group) held a side event themed "We Need Women Leaders in Politics: Better Society, Strong Democracy" on March 22 in partnership with Permanent Mission of Japan to the United Nations.

National Women's Education Center (NWEC) also conducted two projects during CSW sessions. NWEC set up a virtual exhibition booth on the platform provided by NGO CSW/NY headquartered in New York City, and engaged in dissemination of information. The booth presents descriptions of various NWEC projects, and provides a gender statistical summary on the present situations of gender equality in Japan, as well as message videos from Japanese experts for CSW65.
1 Message from NWEC President
3 CSW65 Expert Message: Youth Participation not as a Token
4 CSW65 Expert Message: Promoting Girls' Education in Nepal
5 CSW65 Expert Message: Men and Gender Equality
6 CSW65 Expert Message: Issues and Challenges of Gender Equality in Japan
7 CSW65 Expert Message: Gender Responsive Disaster Risk Reduction
On March 23, NWEC participated as a speaker in an online parallel event themed "Women's Rights and the Japanese Constitution: Beate Sirota Gordon's Legacy and Implications Worldwide" hosted by Ms. Nicole Gordon.

Ms. Nicole Gordon is the first daughter of Ms. Beate Sirota Gordon who engaged in the drafting of Article 14 and 24 of the Japanese Constitution. She donated to NWEC Women's Archives Center a part of documents Beate left. Over 50 persons participated in the event from all over the world, and engaged in active discussions on Beate's contribution to the Japanese Constitution as well as the present situations surrounding women in Japan where there's still a long way to go to achieve gender equality.
The 65th session of the Commission on the Status of Women