International Conference/International Exchange
7th Global Forum on Gender Statistics
International Conference/International Exchange
International Conference

7th Global Forum on Gender Statistics

Date:November 14 to 16, 2018

Place:Asakusa View Hotel /
---
From November 14 to 16, 2018, the 7th Global Forum on Gender Statistics co-organized by the Ministry of Internal Affairs and Communications of the Government of Japan and the United Nations Statistics Division (UNSD) was held in Asakusa View Hotel, Tokyo. About 170 experts, researchers and users of gender statistics got together from 73 countries and international organizations for the purpose of improving skills and sharing knowledge to produce and utilize gender statistics.

The three-day program opened with a keynote speech delivered by Ms. Yumiko Tanaka, Representative of Japan to the United Nations Commission on the Status of Women, and also a Visiting Researcher of National Women's Education Center.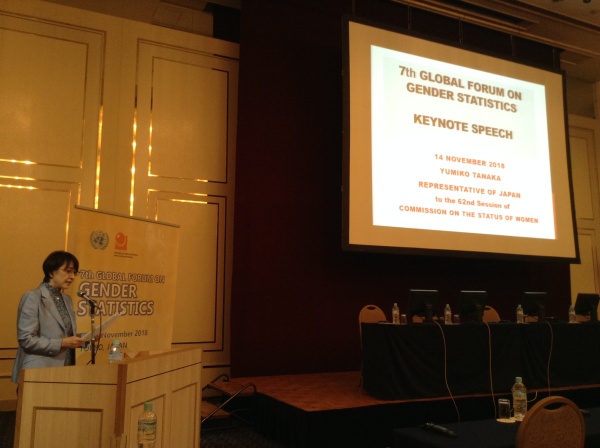 Keynote speech
In Session 7, "Non-traditional data sources and innovative methods to gather better evidence and 'leave no one behind'," the representative from Mito City reported on the efforts being made to utilize the gender statistics at the local municipality for evidence-based policies (EBP). In the special session on "Gender Statistics in Japan," a NWEC researcher made a presentation on the production of gender statistics and promotional activities by local gender equality centers and the citizens of women's groups. NWEC Summary Gender Statistics leaflet 2018 was also handed out to the participants.
Program
High level panel
Better use of data to achieve gender equality:
How to communicate gender data effectively and close the user-producer information gap
Sessions
Women's economic empowerment – Measuring gender equality at work
Women's economic empowerment – Measuring gender equality in asset ownership and entrepreneurship
Women's double work burden - Measuring gender equality in unpaid work and use of time
Gender, climate change and the environment
Gender equality and human rights
International migration and gender
Non-traditional data sources and innovative methods to gather better evidence and "leave no one behind"Special session: Gender Statistics in Japan.
Recent initiatives on gender statistics - filling the gender data gap
7th Global Forum on Gender Statistics