International Cooperation
FY2014 International Symposium: Keys to Diversity and Women's Leadership
NWEC Global Seminar
Event Report

FY2014 International Symposium: Keys to Diversity and Women's Leadership

Date:November 21, 2014

Place:Kasumigaseki Knowledge Square in Chiyoda-ku, Tokyo. /
---
On Friday November 21, 2014, the National Women's Education Center held the 2014 NWEC International Symposium at Kasumigaseki Knowledge Square in Chiyoda-ku, Tokyo. The theme of the symposium was Keys to Diversity and Women's Leadership.
The keynote address in Part I was delivered by Prof. Judy McGregor, who served as the first Equal Employment Opportunities Commissioner with the New Zealand Human Rights Commission and is currently a professor at Auckland University of Technology. She described the Commission's work by highlighting gender wage disparities and the conditions faced by women who are engaged in the care of senior citizens, which were revealed by interviews of the care workers.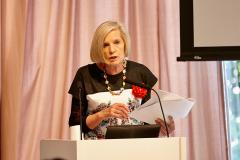 1. Keynote Address (by Prof. Judy McGregor)
Ms. Koto Kanno, who is a NWEC visiting researcher, led the panel discussion in Part II as the facilitator. Two Japanese experts joined the panel. Prof. Mutsuko Asakura of Waseda University Law School reported on policy issues regarding the realization of a work-life balance from the gender equality point of view and the correction of gender wage gaps, and discussed recent court cases. Prof. Keichi Kumagai of Ochanomizu University gave a lecture on the transformation of men and masculinity in Japan in a time of transition, and the importance of creating an open environment.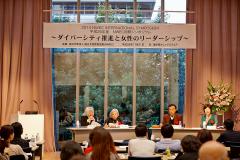 2. Panel Discussion
During the questions and answers session, a number of questions were raised by the audience members, including the pros and cons of a quota system as a means of increasing the number of female managers within organizations, and what is needed to change awareness so as to dismantle the practice of long work hours, which tacitly supports gender-based work division. Active discussions were carried out about the promotion of diversity founded on human rights and gender equality.
<Past International Symposiums>
FY2014 International Symposium: Keys to Diversity and Women's Leadership