International Conference/International Exchange
Research report on Multicultural Family Support in South Korea
International Conference/International Exchange
Research

Research report on Multicultural Family Support in South Korea

Date:January 18, 2012
---
National Women's Education Center of Japan (NWEC) researcher visited South Korea from Sunday 15th to Wednesday 18th January 2012 for research on Grants-in-Aid for Scientific Research "Empowerment and Support of Migrant Women Focusing on Promotion of Gender Equality Initiative at the Local Level".

The number of marriage migrant women from China (Ethnic Korean), Vietnam, Philippine, Cambodia and Japan is increasing rapidly in South Korea since 2000. We conducted research to find out what kind of organization is offering what kind of support for marriage migrant women at the local level and system which supports it.

In South Korea, the family who consists of marital couple between South Korean and foreigners is called "Multicultural Family". The South Korean Government enacted "The Multicultural Family Support Act" in 2008, establishing Multicultural Family Support Center all over the country (201 places at present) and systematizing support for marriage migrant women and the children.

In this research, researcher visited Dongdaemungu Multicultural Family Support Center and Seodaemungu Multicultural Family Support Center in Seoul, Bukgu Multicultural Family Support Center in Gwangju and "A village with no Borders" in Ansan, Gyeonggi an initiative by private association.

An interview was also held with The Korean Institute for Gender Equality Promotion and Education (KIGEPE), NWEC's partner organization, on Multicultural Family Support Training. KIGEPE carries out training for police officer, government official and international marriage agents.

Researcher found that local supports for migrant women in Korea are conducted under national policy.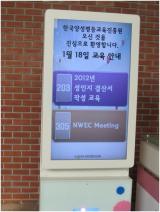 1. NWEC shown as a Today's visitor at KIGEPE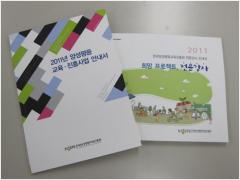 2. Annual report FY 2011 of KIGEPE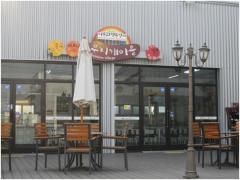 3. Community cafe to assist work for marriage migrant women: Jan Don market, Guanzhou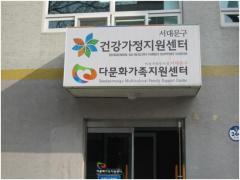 4. Seodaemungu Multicultural Family Support Center
Research report on Multicultural Family Support in South Korea