International Cooperation
FY2007 Empowerment Seminar for Women Leaders in the Asia Pacific Region
International Seminar
Event Report

FY2007 Empowerment Seminar for Women Leaders in the Asia Pacific Region

Date:February 14 to 23, 2007
---
The Empowerment Seminar for Women Leaders in the Asia Pacific Region was held from February 14 to 23, 2008. A total of eleven women leaders engaged in promoting gender equality participated from seven countries: the Philippines, Thailand, Cambodia, India, Bangladesh and Korea. They represented various backgrounds including legislative, executive (administrative), research and local private groups committed to promoting women's rights that have cooperative arrangements with the Center.

One sub-theme addressed at the seminar was "The Issue of Human Trafficking and How to Resolve It.". The occasion also provided an opportunity for participants to attend the "Expert Group Meeting on Human Resource Development and Staff Training to Combat Trafficking in Persons achievements so far and ways forward," to make presentations based on their own experience, and to engage in productive discussion. They also learned about measures taken in Japan to combat trafficking and visited related facilities. All in all, the seminar provided a useful opportunity for mutual learning.

Through the ten-day program, in addition to leadership empowerment, a network was built among the participants as well as with related individuals and organizations in Japan. On the last day, a wrap-up forum was organized at Shufu-kaikan in Yotsuya, Tokyo under the title: "Combating the Demand and Supply for Sex Trafficking; Challenges for Global Cooperation." It provided an additional opportunity to present the outcomes of the seminar and as a forum for exchange. Updated information was presented on actual situations in the countries represented as well as measures taken to address them. Recommendations were adopted targeting sending countries and receiving countries.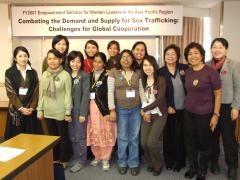 NWEC will continue to support networking and contribute to nurturing and training leaders to solve challenges related to gender-equality in Asia.
FY2007 Empowerment Seminar for Women Leaders in the Asia Pacific Region