International Conference/International Exchange
Ochanomizu University and A Canadian Women's Study Researcher visited NWEC
International Conference/International Exchange
Visitor

Ochanomizu University and A Canadian Women's Study Researcher visited NWEC

Date: March 12, 2014
---
On Wednesday, March 12, 2014, four guests, including Professor Dr. Kimiko Murofushi of the Endowed Research Division of Human Welfare Sciences at Ochanomizu University and Dr. Roda, a Canadian ethnomusicologist, visited NWEC as part of the Female Researchers' Exchange Program between Japan and Canada .

The goal of this program is to promote women's active involvement in the wide-ranging fields of science, technology and academia by creating opportunities for female researchers from Japan and Canada to visit each other's countries, and they visit NWEC as part of their itinerary.

Following greetings and an introduction to the center by NWEC staff members, Dr. Roda gave a report on the current status of Canadian female researchers, who are increasing in number. After an exchange of opinions with staff members, she toured the Information Center for Women's Education, the Women's Archives Center, and the child care center, etc. 

NWEC is committed to continuing its efforts to construct an international network in order to promote gender equality.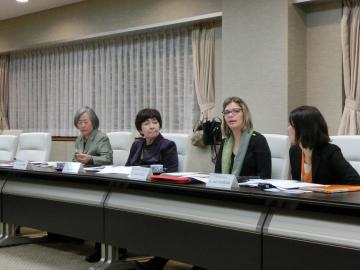 Dr. Roda reports on the Current Status of Female Researchers in Canada
Ochanomizu University and A Canadian Women's Study Researcher visited NWEC