International Cooperation
FY2009 Empowerment Seminar for Women Leaders in the Asia Pacific Region Final Report
International Seminar
Event Report

FY2009 Empowerment Seminar for Women Leaders in the Asia Pacific Region Final Report

Date:October 21 to November 1, 2009
---
The FY2009 Empowerment Seminar for Women Leaders in the Asia Pacific Region was held at NWEC on October 21 ~ November 1, 2009. In continuation from last year, "Eradication of Violence Against Women (VAW) - To Develop Efficient Support Systems-" a pressing issue in the Asia Pacific region, was adopted as the theme for this seminar. Eleven women leaders working at national machineries, NGOs and educational institutions toward the eradication of VAW in eight countries in the Asia Pacific region (Indonesia, Korea, Cambodia, Thailand, Nepal, Papua New Guinea, Bangladesh and the Philippines) participated in the Seminar.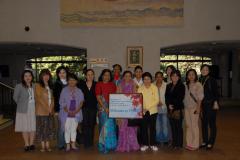 1 Participants from various countries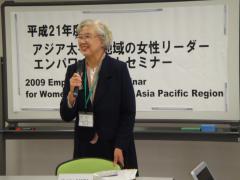 2 President Kanda greeting participants
Arriving at NWEC on October 22, the participants took part in a Program Orientation and listened to a lecture covering NWEC's history, functions and programs. After lunch, they toured the Information Center for Women's Education and the Women's Archive Center before listening to a lecture on trends in the eradication of VAW in Japan by Prof. Tamie Kaino of Ochanomizu University.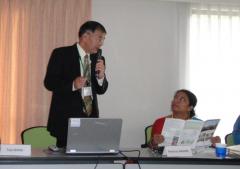 3 Vice President Wake presenting a lecture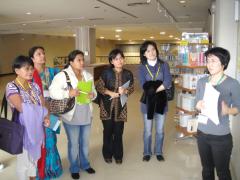 4 Tour of the Information Center for Women's Education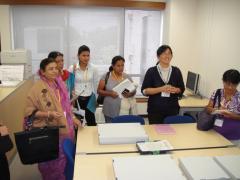 5 Participants perusing materials in the archives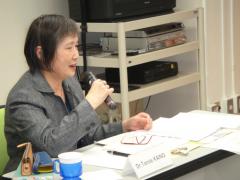 6 Prof. Kaino presenting a lecture
The second day of training saw participants presenting Country Reports and exchanging opinions on the situation surrounding VAW in their respective countries and measures for its eradication.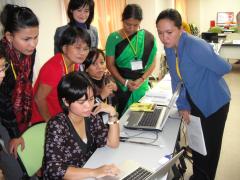 7 Some presentations incorporated videos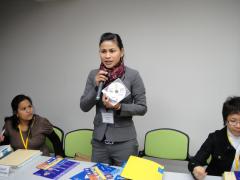 8 A Cambodian participant presenting up-to-date data
The following week, on October 26, participants visited the Gender Equality Bureau in the Cabinet Office and the Ministry of Education, Sports, Culture, Science and Technology (MEXT) where they deepened their understanding of the Japanese government's measures for gender equality and human rights education. They also visited an NGO that engages in healthcare activities for non-Japanese residents of Japan, a company that provides support for female victims of domestic violence (DV) and a college of nursing that implements cutting-edge measures for early detection of DV at medical institutions, and learned about various types of support. On October 30, Ms. Vichuta Ly, a director of Legal Support for Children and Women, a Cambodian NGO, and a participant in the FY2008 Empowerment Seminar, gave a presentation on how the outcome of last year's training had been utilized, and engaged in a discussion on plans for utilizing the outcome of training after participants returned to their respective countries.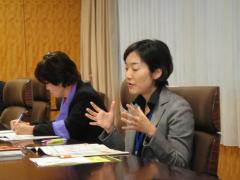 9 Lecture at the Gender Equality Bureau, Cabinet Office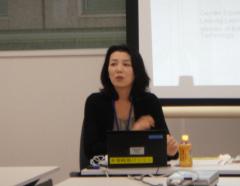 10 Lecture at the MEXT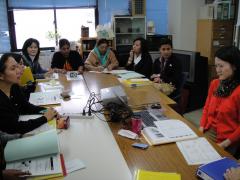 11 Lecture at the NPO SHARE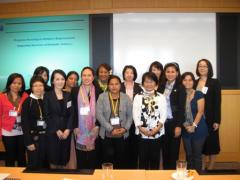 12 At Goldman Sachs Japan Co., Ltd.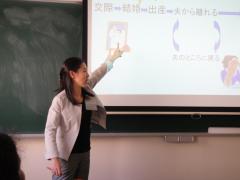 13 A discussion at St. Luke's College of Nursing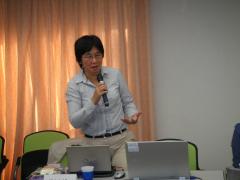 14 Ms. Vichuta Ly presenting a lecture
On the final day, October 31, participants took part in as panelists in the FY2009 International Forum for Women's Empowerment, which was held with the support of the Japan International Cooperation Agency (JICA) at the JICA Research Institute in Ichigaya, and gave presentations in which they identified challenges and proposed policies toward eradication of VAW, an issue common to all of their countries.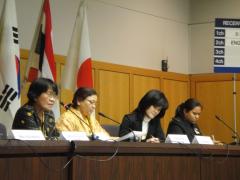 15 /16 Participants presenting at the International Forum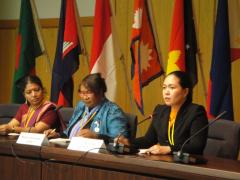 In between their busy schedule of lectures and visits, participants were offered opportunities to learn about Japanese history and culture. During a visit to MEXT on October 26, participants viewed exhibits depicting the history of school education in Japan and school lunches at Museum of the MEXT which is located on the former site of the Ministry building. Then, on October 29, NWEC volunteers demonstrated flower arrangement and the tea ceremony at Hibiki-shoin (a Japanese tea house on NWEC's premises). Participants experienced traditional Japanese culture firsthand by drinking usucha, thin green powdered tea while wearing kimono for the first time.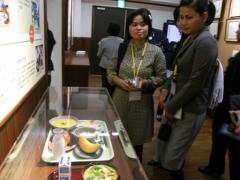 17 Touring an exhibit of school lunches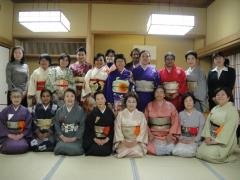 18 Experiencing traditional culture dressed in kimono
Opinions voiced by participants included, "It proved a valuable opportunity to learn about measures to eradicate VAW in each country, including Japan" and "I would like to use the human networks developed through this seminar to continue endeavoring toward eradication of VAW." For its part, NWEC will further develop the experience it has cultivated through hosting international training programs hereto and continue to offer training programs pertinent to gender equality for human resources in the Asia Pacific region.

NWEC would like to express sincere gratitude to the many people who welcomed this year's participants into their respective institutions and cooperated with this seminar as lecturers and volunteers.
FY2009 Empowerment Seminar for Women Leaders in the Asia Pacific Region Final Report