Cooperation with JICA
FY2019 Knowledge Co-creation Program "Promotion of Networking among ASEAN Countries on Anti-Trafficking in Persons"
Cooperation with JICA
Event Report

FY2019 Knowledge Co-creation Program "Promotion of Networking among ASEAN Countries on Anti-Trafficking in Persons"

Date:October 23 to November 8, 2019
---
The National Women's Education Center (NWEC) held the FY2019 Knowledge Co-creation program "Seminar on Promotion of Networking among ASEAN Countries on Anti-Trafficking in Persons" from October 23 to November 8, 2019 as a project commissioned by the Japan International Cooperation Agency (JICA). The seminar was attended by 12 people overseeing anti-TIP measures, both from public and private sector, of six countries in the ASEAN region: Cambodia, Laos, Myanmar, the Philippines, Thailand, and Vietnam.
Focusing on the prevention of trafficking in persons (TIP) and the protection of victims, the purpose of the seminar was to have participants to learn about the various efforts in each other's countries, including Japan, and to strengthen the networks among them. The main pillars of the seminar were: 1) To learn about public and private systems and initiatives taken in Japan based on the government's Action Plan of Measures to Combat Trafficking in Persons; 2) To share issues, differences, and good case examples with each other through the presentation of country reports; 3) To deepen investigations with a view to improving anti-TIP networks in the ASEAN region; 4) To draft action plans for improving anti-TIP programs in the relevant countries and strengthening domestic and regional networks. The seminar progressed with study tours, lectures, and discussions among the participants, and on the final day, seminar attendees from the respective countries presented action plans for the protection of victims from their standpoint and for collaborative relationships in the ASEAN region for the purpose of eradicating TIP.
1Seminar highlights
Initiatives by the Japanese government
To learn about initiatives taken by the Japanese government, participants visited the Cabinet Secretariat, where they were given a briefing on the government's systems for implementing the 2014 Action Plan of Measures to Combat Trafficking in Persons, and outline of activities by the relevant institutions, and statistics on crime involving TIP. Responsible officials from the Ministry of Health, Labour and Welfare gave lectures on the protection of victims of TIP, with a focus on legal framework and systems for the protection of women in Japan at its foundation, and on programs of assistance for victims of TIP. To learn about the protection of women from violence at the local government level, participants visited the Tokyo Metropolitan Women's Consulting Center, where they were briefed on an overview of programs for temporary protection, toured protection facilities, and learned about phone consultations given by the Center.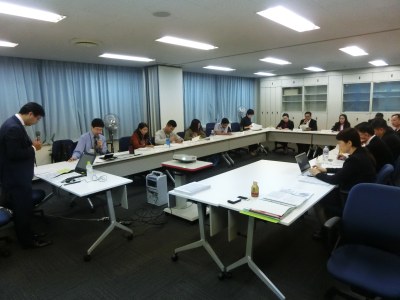 Lecture on initiatives by the Ministry of Health, Labour and Welfare
In the session with the National Police Agency, where they learned from the official about the policing of TIP crimes, partnerships with relevant institutions, and the anonymous reporting hotline. They also visited the Tokyo Regional Immigration Bureau, where they learned about entry inspections, visa procedures, and applications for recognition of refugee status.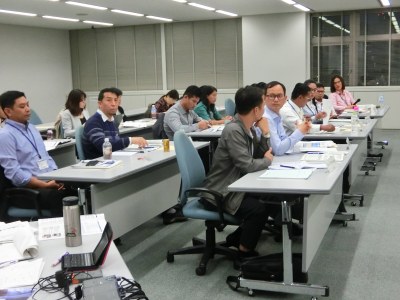 Visiting the Tokyo Regional Immigration Bureau
Seminar at NWEC in Saitama Prefecture
The first half of the second week of the seminar was held at the National Women's Education Center. In addition to a briefing on projects at NWEC to promote gender equality, Specialist staff gave lectures about feminist counseling and counselor training. During the country reports given by representatives of the various countries, speakers shared information on the organizational systems of their respective countries, differences in issues, and the latest circumstances in their countries, such as good practices. For example, there is a country in which private groups had joined their government's Inter-Ministerial Liaison Committee (Task Force) on Trafficking in Persons, a country in which staff specializing in victim protection are always on teams with investigators when responding to TIP cases. Concerns were also shared from some countries such as surrogate births and trade in human organs issues increasing.

Caseworkers from the International Organization for Migration (IOM) gave a briefing on a TIP victim assistance program commissioned by the Japanese government. There was also group discussions in which members compared and contrasted initiatives in the respective countries. In a lecture given by Professor Yuriko Saito, attendees learned about the difficulties faced by immigrant women because access to contraceptive drugs differs from country to country.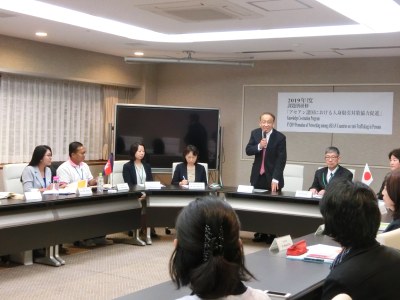 Welcome address by Mr. Nakazawa, NWEC Vice President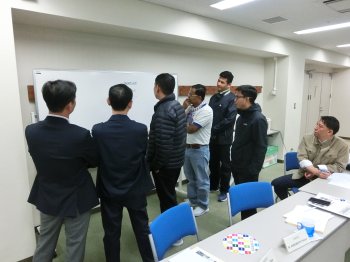 Group discussion at NWEC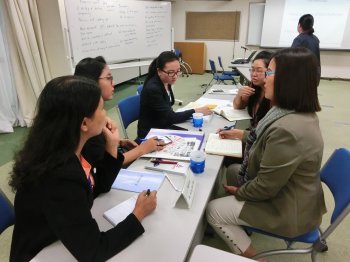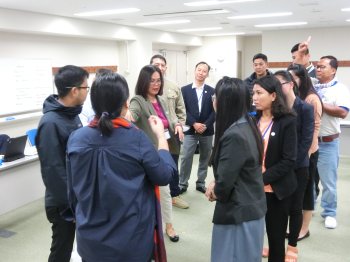 Group work facilitated by IOM case worker
Assistance for migrant women and children by private groups
Seminar participants made a visit to the Fujimino International Cultural Exchange Center (FICEC) in Saitama, where they talked with women who do volunteer work for adults and children in the communities with overseas ties. FICEC is engaged in a broad range of assistance, including learning support for the Japanese language, multilingual consultations on matters concerning community life (also available by phone).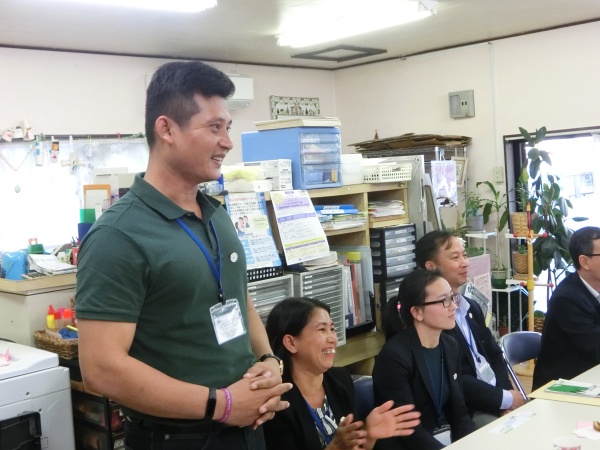 Visiting FICEC
The delegation then visited Kisarazu City in Chiba Prefecture, where they learned about the efforts of a social welfare foundation called Ichiryukai. After being treated to homemade lunches, the members toured a facility to help women with children become financially self-reliant and a child/family services facility that are on the Ichiryukai grounds, where they learned about child welfare systems in Japan and issues that foreign women and children face.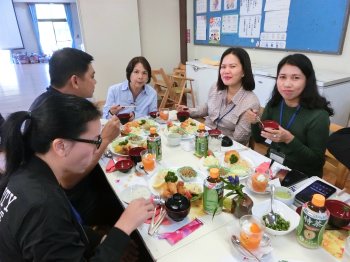 Visiting Ichiryukai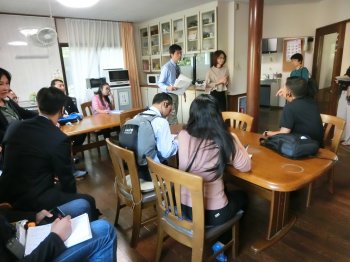 With members of Waelaa-Waaree, a group which supports foreign victims of TIP and domestic violence, the participants learned about the necessity of long-term support for victims and the importance of cooperation between public and private institutions as they looked at the statistics for developing countries from which many women come to Japan. The participants also went on a study tour organized by the group called Colabo. They were explained about the circumstances of teenage girls and young women in the Tokyo's entertainment district, then got a report on efforts underway in partnerships with local governments, including outreach initiatives and efforts to help such women find better places where they can feel they belong. The sexual exploitation of young people and online victimization are issues that all countries are facing, but the commodification of young women's sexuality that is now occurring was a topic on which the attendees engaged in a particularly passionate exchange of thoughts.
Labor/Legal/Telephone consultations and advocacy
Consulting programs of various forms for preventing harm and protection are being undertaken in many countries. During the tour of the Social Inclusion Support Center, seminar attendees were given briefings on the comprehensive support systems of Yorisoi Hotline, a service having nationwide bases that seeks to properly connect counselors with available social resources, as well as on a consulting program for young people using the messaging app LINE.

They also visited the offices of Solidarity Network with Migrants Japan (SMJ), where they watched a video documenting the experiences of victims of TIP and listened a talk about the difficulties that non-Japanese workers face in Japan.

Three lawyers from the group Lawyers for Trafficked Victims came to discuss the issue with the participants. Based on TIP cases, participants had a lively exchange of questions and ideas with the lawyers on issues related to victim support.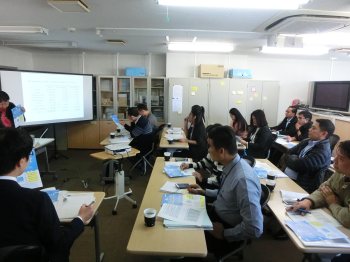 Lecture on the Yorisoi Hotline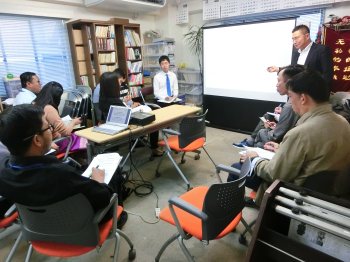 Lecture by Mr. Torii, Representative Director of SMJ
Initiatives by JICA and action plan presentations
During the last week, participants engaged in group debates as they incorporated what they had learned in the seminar into action plans. A specialist from JICA's Office for Gender Equality and Poverty Reduction outlined the anti-TIP programs JICA is undertaking in chiefly the Mekong region. After the talk, some participants expressed the desire for JICA to expand the programs to their countries.

On the last day, a Final Presentation and Discussion Seminar was held at JICA Tokyo Office, to which experts were invited. Attendees gave presentations of action plans incorporating what they had learned in the seminar's lectures, study tours, and discussions on case examples in other countries into action plans to undertake once they have returned to their home countries. This was followed by a discussion on how to eradicate trafficking in persons in the ASEAN region while continuing to maintain human networks. The Chief of Mission of IOM, members of the Lawyers for Trafficked Victims and ACEF, academe, and experts from NWEC were in attendance as well.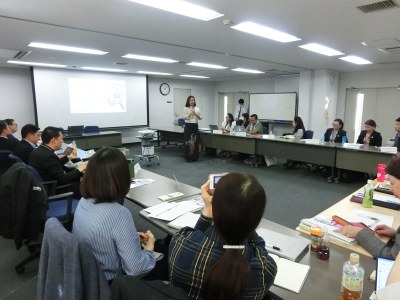 Final Presentation and Discussion Seminar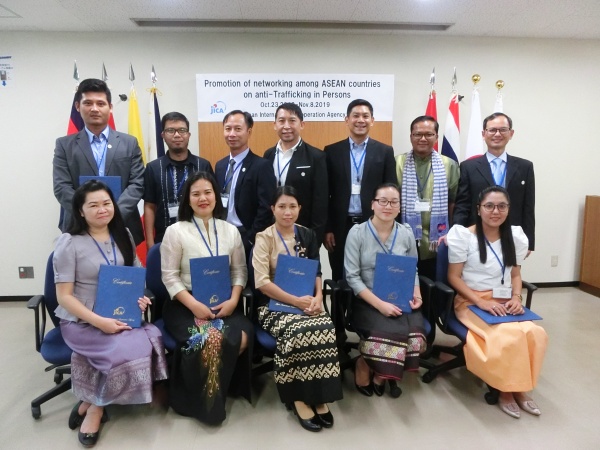 Closing ceremony
After the seminar, participants overseeing anti-TIP measures in the ASEAN region gave encouraging feedback, indicating that, through the seminar's lectures, study tours, and discussions with the participants from other countries, they were able to gain a deeper understanding of anti-TIP efforts in ASEAN countries. Comments included: "I was able to form networks and share information with people in my position in other countries," "Because of the opportunities provided in the seminar, I now have plans to cooperate with other participants in launching a new survey project," and, "I learned that in Japan there are many private organizations that provide broad support to non-Japanese residents and their supporters alike."



Lastly, NWEC expresses its deepest gratitude to the relevant ministries and agencies (Cabinet Office, the Ministry of Foreign Affairs, the Immigration Services Agency of the Ministry of Justice, the Ministry of Health, Labour and Welfare, and the National Police Agency), prefectural governments (Tokyo., Chiba and Saitama), embassies, international organizations, anti-TIP networks, private support organizations, experts, and all the people who are engaged in support activities that offered considerable cooperation to this seminar in lectures, exchanges of opinions, and study tours.
FY2019 Knowledge Co-creation Program "Promotion of Networking among ASEAN Countries on Anti-Trafficking in Persons"