International Conference/International Exchange
Delegation of the Ministry of Defense of the Socialist Republic of Vietnam visited NWEC
International Conference/International Exchange
Visitor

Delegation of the Ministry of Defense of the Socialist Republic of Vietnam visited NWEC

Date:July 1, 2015
---
An 18-member delegation of the Ministry of Defense of the Socialist Republic of Vietnam headed by Lieutenant Colonel Bui Thi Lan Phuong, a permanent member of the Ministry's Committee for the Advancement of Women, visited NWEC on July 1, 2015.
Following President Utsumi's welcome address, a researcher from the Office of Research and International Affairs gave a presentation on the history of NWEC and the programs it undertakes. Lt. Col. Bui Thi Lan Phuong then reported on gender equality initiatives being taken by Vietnam and the Ministry of Defense, and the challenges they face.
A discussion with NWEC staff was followed by a tour of NWEC's Information Center for Women's Education, seminar complex and Japanese tea ceremony house; and lunch at the restaurant at the Center where an event was underway. An impromptu performance of traditional Vietnamese songs by a member of the delegation provided an opportunity for deeper exchange with other NWEC users.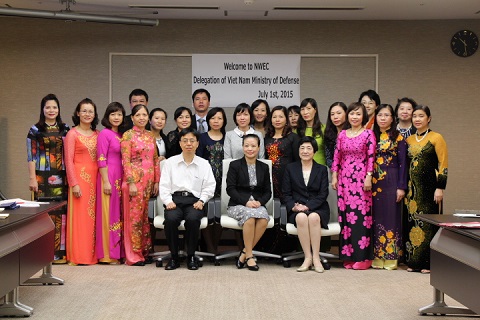 Commemorative photo with the delegation of the Ministry of Defense of the Socialist Republic of Vietnam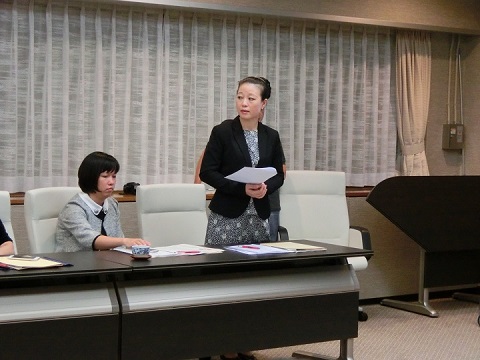 Lt. Col. Bui Thi Lan Phuong presenting her report
Touring the Information Center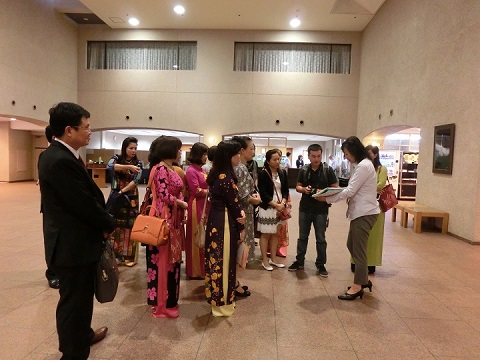 Touring NWEC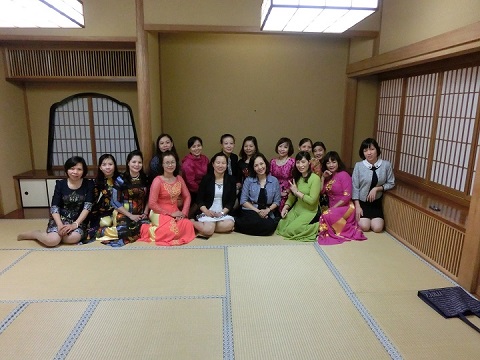 The delegation in the Japanese tea ceremony house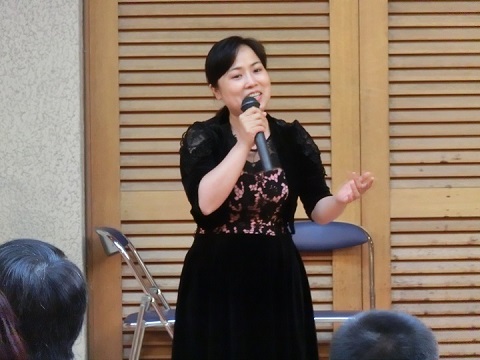 Performing traditional Vietnamese songs at the restaurant at NWEC
Delegation of the Ministry of Defense of the Socialist Republic of Vietnam visited NWEC