International Conference/International Exchange
Secretary of State, Ministry of Justice, Kingdom of Cambodia visited NWEC
International Conference/International Exchange
Visitor

Secretary of State, Ministry of Justice, Kingdom of Cambodia visited NWEC

Date:October 24, 2013
---
On October 24, Ms. Chan Sotheavy, Secretary of State, Ministry of Justice, Kingdom of Cambodia, visited the National Women's Education Center (NWEC) and met with Ms. Fusako Utsumi, President of NWEC.

Ms.Chan came to Japan on October 20 to participate in the "Seminar on Promotion of Networking Among Asian Countries on Anti-Human Trafficking," which was hosted by the Japan International Cooperation Agency (JICA).

During her visit, Ms. Chan listened to a lecture on the trafficking in persons in Japan by an expert in migrant labor issues, as well as the NWEC's report on their training programs to eradicate violence against women.

Ms. Chan had participated in the "Empowerment Seminar for Women Leaders in the Asia Pacific Region," which was a capacity building seminar sponsored by NWEC in 2008, and this was her second visit to NWEC after an interval of five years.

During the meeting with Ms. Utsumi, they exchanged views on the importance of gender mainstreaming in the judicial related sections.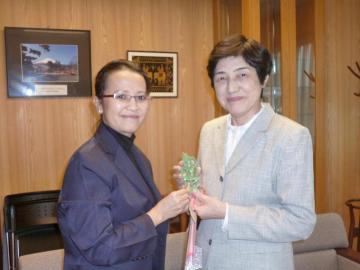 理事長を表敬訪問
Secretary of State, Ministry of Justice, Kingdom of Cambodia visited NWEC