International Conference/International Exchange
International Conference/International Exchange
Visitor

Dr. Barker's visit

Date:April 2, 2012
---
 On April 2, 2012, Dr. Nicholas H. Barker, the Senior Leadership Education Specialist from East-West Center in Hawaii, made a courtesy visit to NWEC.
 After the welcome remarks from President Utsumi, staff of Office of Research and International Affairs made an introductory presentation about NWEC. Then, Dr. Barker introduced "Asia Pacific Leadership Training (APLT)" conducted by the East-West Center. It is a signature program of the Center aimed to create a network of action, focused on building a peaceful, prosperous and just Asia Pacific community. Program runs for 9-month, of which for the first 5 months participants are required to stay and live on campus. Living together for long time, facilitate participants to understand the differences and overcome issues and conflicts strengthening their bond. About 55% of the program participants have been women, mostly from South or South-East Asia, from all walks of life. Many of the alumni have succeeded in their career. Strong bond formed during the training helps network among East-West Center and alumni.
 Lively discussions followed regarding definition of leadership and measurement of outcome. Afterwards, Dr. Barker visited NWEC facilities including Information Center for Women's Education and Women's Archives Center.
Dr. Barker's visit and talk was very inspiring for the NWEC staff to think further about the NWEC programs. We hope to continue and expand possibilities to cooperate with Dr. Barker and East-West Center.
Related Links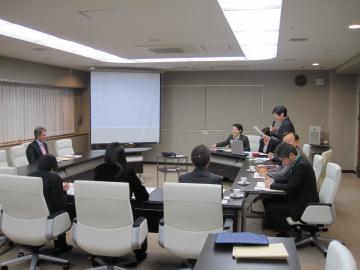 Welcome remarks by Ms. Utsumi, President of NWEC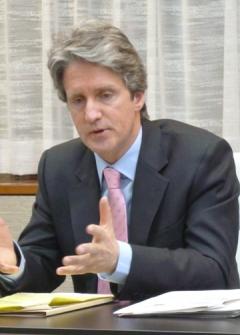 Dr. Barker's presentation on "Asia Pacific Leadership Program"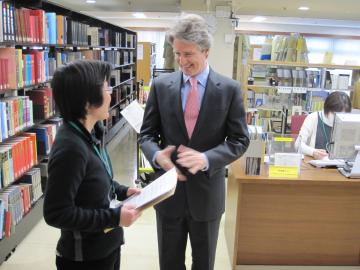 Visit to Information Center for Women's Education