International Cooperation
FY2008 Empowerment Seminar for Women Leaders in the Asia Pacific Region
International Seminar
Event Report

FY2008 Empowerment Seminar for Women Leaders in the Asia Pacific Region

Date:November 6 to 15, 2008
---
The FY2008 Empowerment Seminar for Women Leaders in the Asia Pacific Region was held at NWEC from November 6-15, 2008. A total of 13 women leaders active in national machineries, NGOs and women's organizations in nine countries in the Asia Pacific region (India, Korea, Cambodia, Thailand, Nepal, Papua New Guinea, Bangladesh, the Philippines and Laos) participated in this year's seminar.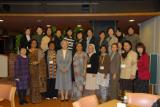 Participant with the President and NWEC staff at the welcome party
The title of this year's seminar, the third of these seminars, was Eliminating Violence Against Women - Sharing Various Forms of Partnership and Collaboration. The 12-day seminar began with participants presenting cases studies on violence against women and eradication thereof in their own countries.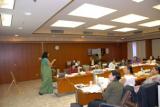 Participants making case presentations
During the seminar, lectures by experts and specialists in the field were complimented by visits to the Gender Equality Bureau, Cabinet Office; the Gender Equality Planning Section, Chiba Prefecture; the Chiba Women's Support Center and Shelter; the Tokyo Women's Plaza; shelters for women victims of trafficking in persons; and private enterprises that develop campaigns to eradicate violence against women as a part of their CSR (corporate social responsibility) activities, and participants deepened their understanding of gender equality policy and measures taken to support women subjected to violence in Japan.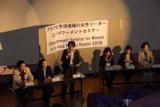 The Outcome and Exchange Forum held at Space You (Kita City)
On the final day, November 15, an Exchange Forum was held at the Gender Equality Center "Space You" in Kita City, Tokyo, where issues pertaining to the eradication of violence against women, an issue common to all countries, and policy proposals were presented. During the Q&A session comprising the latter half of the forum, participants from various affiliation including government officials, graduate students, and support providers posed numerous questions and a lively discussion ensued.
In between the lectures and visits, an exchange program was planned for participants and NWEC volunteers and staff. On the afternoon of Thursday, November 13, NWEC volunteers performed the tea ceremony at Hibiki-shoin. Participants demonstrated great interest in traditional Japanese culture, wearing kimono for their first experience of the tea ceremony and enquiring about the origins of the scroll reading "Ichigo Ichie" (Treasure every encounter for it will never recur) displayed in the alcovel. Later that evening, participants joined NWEC volunteers and staff for a social gathering. Participants tried their hand at making Japanese dishes such as hana-makizushi and oden, as well as Thai harusame vermicelli salad and curry stir-fry, and a friendly ambience filled the venue till late that night.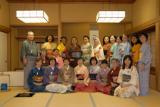 Participants enjoying their first experience of the tea ceremony at Hibiki-shoin
Participants expressed opinions such as "I was able to visit welfare facilities and learn firsthand about measures to eradicate violence against women in Japan, and this was a very valuable experience" and "I would like to use the knowledge I gained from this seminar in the operation of women's centers (in my country)." For its part, NWEC was able to further expand the human network it has been building, and will continue to offer training programs for human resources involved in gender equality in the Asia Pacific region.
FY2008 Empowerment Seminar for Women Leaders in the Asia Pacific Region